Vitamin Shoppe - Chart Of The Day
The Barchart Chart of the Day belongs to the nutritional products retailer Vitamin Shoppe (VSI).
Vitamin Shoppe is a specialty retailer and direct marketer of nutritional products. It primarily sells vitamins, minerals, nutritional supplements, herbs, sports nutrition formulas, homeopathic remedies, green living products and health and beauty aids. Based in North Bergen, New Jersey, the company is recognized as an innovator in providing product information, associate training, and customer education. Information is available to consumers through unprecedented outlets including television, radio, friends, family, health practitioners, and the internet. It offers consumers the opportunity to take charge of their own health and wellness requirements, and supplement where necessary. At each store location, consumers can find a comprehensive Learning Center which offers free access to vital information about key health concerns and products. The Vitamin Shoppe is a strong supporter of health and wellness campaigns including `Life Supplemented` sponsored by the Council for Responsible Nutrition.
(Click on image to enlarge)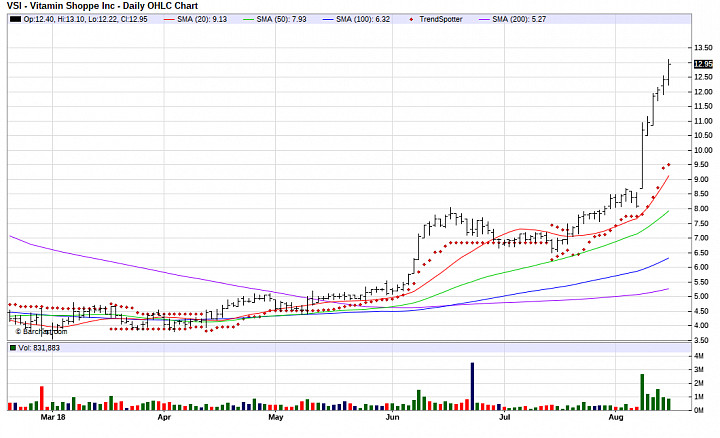 100% technical buy signals
130.30+ Weighted Alpha
112.70% gain in the last year
Trend Spotter buy signal
Above its 20, 50 and 100 day moving averages
18 new highs and up 88.04% in the last month
Relative Strength Index 87.91%
Technical support level at 12.02
Recently traded at 12.95 with a 50 day moving average of 7.93
Fundamental factors:
Market Cap $298 million
P/E 57.38
Revenue and earnings projections are all over the map
Wall Street analysts have 1 buy, 6 hold and 1 under perform recommendation in place
The individual investors following the stock on Motley Fool voted 45 to 16 that the stock will beat the market
More